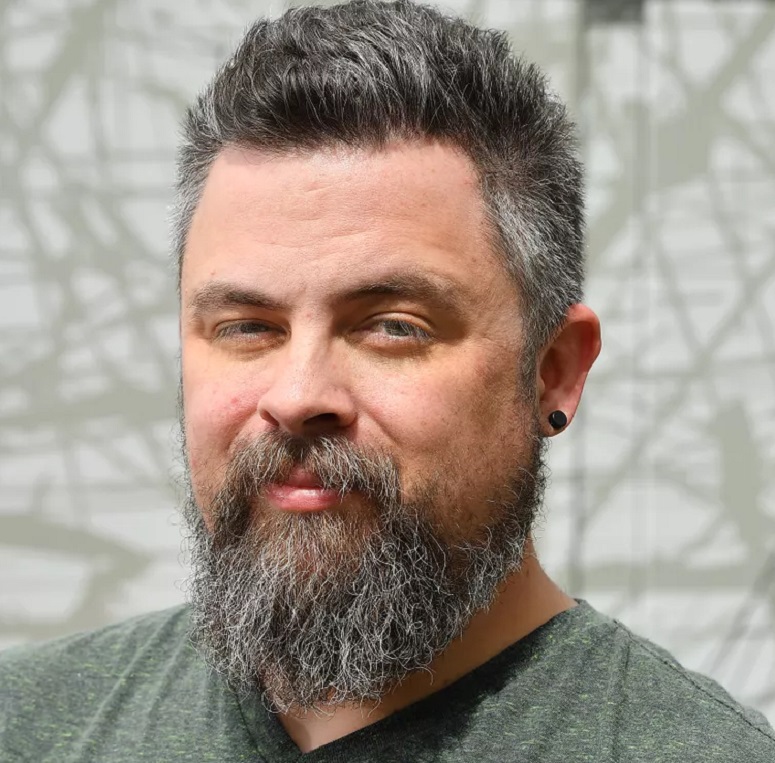 Derek Landers, who designed Spokane's new city flag poses for a photo in front of a mural of the Spokane skyline on
Monday, May 10, 2021, at Riverfront Park in downtown Spokane, Wash. (Tyler Tjomsland/The Spokesman-Review)
The first flag Derek Landers ever designed was a pretty good one.
On Monday, the Spokane Flag Commission announced Landers' submission as the winning design for the city's new flag, selected as the favorite by voters out of a dozen finalists.
The flag features the yellow sun in the top left corner, shining above a flowing blue river that cuts across its center. The bottom half of the flag is dominated by a solid green color.
Spokane gets its name from the Salish word pronounced "s-pok-ah-nee," meaning sun, the presence of which is meant to honor the Salish peoples who historically inhabited this land, and "their presence is still here," Landers, who was born and raised in Spokane , told The Spokesman-Review.
The river, Landers explained, represents the Spokane River and Spokane Falls, while the green is a nod to the land and trees of the region.
The river that cuts between the sun and land befits the "constant movement of Spokane," Landers said.
"Hopefully when this thing is waving in the wind that kind of graphic representation of the river and the flow of it will look really cool," Landers said.
Landers is the art director at The Great PNW, a company whose Pacific Northwest-themed shirts, hats and other accessories line the racks of local stores. He's also co-founder of Spokane Print and Publishing Studio, a nonprofit print studio in Spokane.
With more than two decades of experience, Landers is also principal of his own design studio, Landers Design, and has created dozens of logos, brands, and posters – including for bands like My Morning Jacket, Wilco, Soundgarden and Pearl Jam.
Despite that lengthy resume, Landers said he had never actually designed a flag until this one.